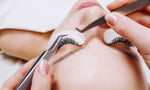 How do I provide excellent service to my clients?

We have received many calls and messages asking how to provide an excellent service to your clients once you are already an eyelash artist. Knowing how to treat your clients is vital in order to grow your business.

It's very important since in the way we serve our clients will affect their return and their recommendation. In my beginnings I remember that I prepared the study room, and I strived to make it a private space, which had decorative elements focused on beauty, a bed with clean sheets and a scent in the delicious environment, this made That my clients felt important since they realized the effort that I put to take care of them, that in addition to the good work in the application of eyelashes was a part of my growth today.

I recommend girls who attend to their clients thinking about how they would like to be served, this will undoubtedly lead them to success.