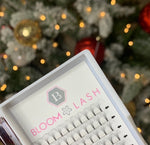 Preparing for the Holiday Season
Are you ready for the holidays?
Getting ready for the holiday season is an essential part of helping your business grow. Now, how exactly do we prepare for the next few weeks? To begin with, we must be equipped with all the material necessary to attend all of our clients. People love to have all their beauty services done right on time for the holidays. Use this as an opportunity, stock up on everything! This includes; lashes, lash glue, primer, shampoo, and any other item that is necessary during an application. We must be ready for busy schedules with packed clients. Remember to stay one step ahead of the game! Make announcements, make yourself known. Remind your clients to book ahead of time in order avoid last minute situations. 

We have to know, that they are dates with high demand for shipments and that these can be delayed, so it is recommended to order products in advance to have enough stock for your applications.

All the extra service that you add in your applications, your clients will appreciate it. Such as washing their eyelashes, relaxing music, aroma and pleasant atmosphere in your studio. If you can, give them a kit that contains eyelash care in writing, a brush, applicator and a small gift like a chocolate or something simple, that makes them feel well cared for.

I wish you much success on these dates! Remember that perseverance is the key to success.